---
MD InkJecta Pearl Black Tattoo Machine VICE
PRICE:Back in stock soon.

SALE PRICE:$530.00

Above photo shows the COMBO version, photo below shows both. Only one VICE version left in stock.
One of the most eagerly anticipated tattoo machines are now available in Pearl Black. The First limited MD Edition
Product Description...
Please Read!

Presenting the new, InkJecta Flite V2.1.

Utilizes the Cheyenne Grips and Cartridge System.

Grips and needle cartridges sold separately.

The Vice versions can be purchased along with a stainless steel grip available on our website. Grips sold separately. $30.00 Non adjustable. Cheyenne offers a flex grip that does have the twist adjustment for on the fly, a little more pricey! Close to $200 for the flex grip. WE ONLY HAVE A COUPLE OF THE VICE VERSIONS LEFT!

The Combo version. Notice the screw on end, those are for the Cheyenne grips. InkJecta calls them Combo… Cheyenne Grips sold separately. Allows them to be adjusted on the fly by twisting the grip. Those grips run you between $150-175. At this time this is what I prefer. COMBO VERSIONS ARE SOLD OLD"

5 Watt Maxon Motor. Top of the line!

Each Tattoo Machine Comes with 3.0, 3.5 & 4.0 mm Interchangeable Cam System. Easily Interchangeable! You don't even have to take the machine apart.

Each Tattoo Machine comes with a Hard, Medium & Soft Interchangeable Flex System. Easily Interchangeable! You don't even have to take the machine apart.

STRONG long grain FIBRE construction!

Light Weight 2.3oz / 63gm Approx. Weight

Available in COMBO version for adjustable grips and VICE version for flex and fixed grips. Combo machines are sold out!

RCA Connection. We also offer right angle RCA cords that feel great on the machine while you work.

Supplied with and lubricated by inox food grade lubrication.

One beauty of this tattoo machine is that you really only need one!
Unless you want different setups, softer, harder hit, stroke lengths,etc.

An Australian made top shelf product!

Built by tattooists for tattooists!

Start it at 9 volts and feel it out from there! I prefer 9 - 9.5 volts for everything but for lining 9.5 - 10 volts... Just my preference. Keep in mind these machines don't run until you hit that 9 volt mark, so don't panic if it's not working, just turn it up.
These tattoo machines are for professional tattoo artists!
Here is a picture that shows both versions...Vice and Combo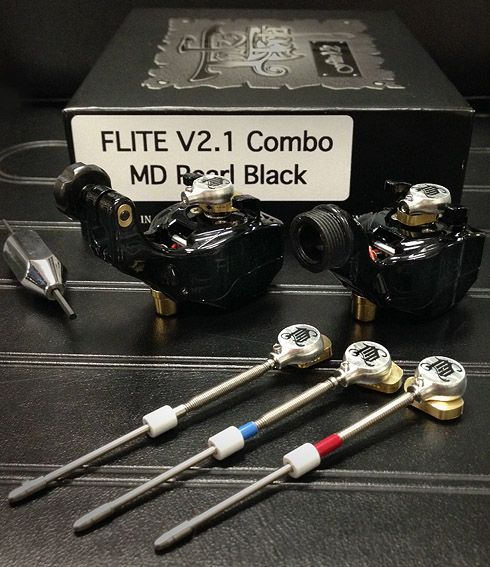 You may be interested in looking at the products below.